INTENT:


Just in case it's not already understood, I just want to make abundantly clear that this project is in no way intended to undermine Mattel or any of the license-holders involved with the "Masters of the Universe" brand. These are unofficial fan works that I have created for a few reasons:


​1: FUN. C'mon, what's more fun than MOTU?

2: EXPERIENCE. As someone who longs to write professionally, I know that it takes hard work, practice, and perseverance to succeed. My primary intent in writing these has been to improve my skills as a writer. My MOTU stories are not my only works, but they are my most complete. In my attempts to improve, I could have written about anything, but I chose MOTU because I love it, leading to the next reason...

3: PASSION. I love He-Man and MOTU. LOVE IT. It defined a chunk of my childhood along with Star Wars, Spider-Man and Batman and now, with these stories, it's defined a chunk of my adulthood as well.

I've shared these stories publicly because I know that others have the same passion for MOTU that I do, and I wanted to give them to those fans, free-of-charge. Just for the record, I have not made one cent off of these stories, and unless Mattel or one of the MOTU license-holders decides that they want to purchase them from me, I never will. I don't even make money off of website-clicks. This is not only because of the obvious legal reasons, but because of my respect for the brand and its owners.

So don't expect to see paperback copies anytime soon. Trust me, I'd love to see it happen; I'd love to have them, myself; but unless it's some form of official release, it's simply not going to happen. Thanks for your understanding as this is probably the question that I get asked most frequently.

And if anyone involved with the brand has any interest in making something official happen, I'm not hard to get ahold of ;-)

-Matt
---
Powered by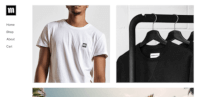 Create your own unique website with customizable templates.